How To Get Fit and Stay Healthy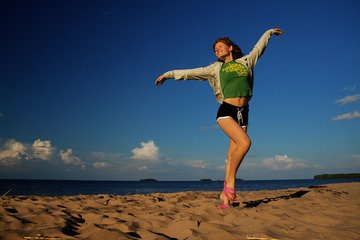 How do we get fit and stay healthy? Preventing chronic pain will be a good start by doing a real change that is achievable versus making a drastic change in your life. For example an overweight problem. Don't make a drastic change by doing intense workouts at a gym. It is not necessary to make trips to the gym and do a cardiovascular workout to make you fit. Some strenuous exercise may put unnecessary pressure on your muscle, joint cartilages, and ligaments and may cause harm instead of good. Do exercises that our body allows us to do and can handle and get accustomed to.
Is Swimming and Walking Good For You?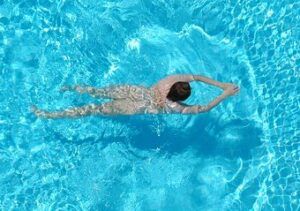 If you like swimming and you enjoy it, it is a low-impact form of exercise. It will not wear down your joints in the lower half, like knee joints, hips, and ankles. Swimming will help burn calories and fats and improve heart health. Do it for 30 minutes or as long as you want. Being in the water will have a relaxing effect on the muscles and water is very gentle on the body.
Walking as a form of exercise is very good as well. Walk around the block where you live, not only it is good for the body, muscles, and heart, the activity helps supply blood to the brain. The idea with the styles of exercises here is really to loosen up muscles and keep the blood flowing thus will prevent pain. It is very effective as I do it myself.
A Handheld Massager for Tired Muscles
Another way of making yourself feel good is to get a lightweight handheld massager, manual, electric, or battery-operated unit that you can use. It is handy when you feel muscle pain is coming on, either on your calf, thighs, and part of your back. Massage your thighs when just sitting down watching TV or reading something. You can also massage part of your backsides that you can reach. It is very effective in treating muscle pain. Use natural essential oil for a soothing effect and fast relief. You will need a 1-ounce size dark bottle (brown or blue to protect your oil from sun exposure). Below is the mixture you can use. You can change Myrrh Oil with Eucalyptus or Peppermint oil if you desire.
Frankincense Oil – 6 drops Myrrh OIl – 6 drops
Lavender Oil – 6 drops
Sweet Almond Oil or Argan Oil as a carrier oil
If you put more than 6 drops of any of the oil, no worries, it will be fine. Rub the oil on the part of your body that you want to massage. You will notice the result the following day when you wake up. It always works for me and hopes it does for you.
Whole Fruits and Smoothies Will Make You Healthy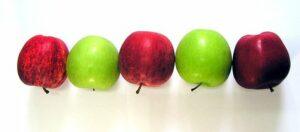 Research studies found that apples lower your risk of chronic diseases including type 2 diabetes, cancer, heart disease, and dementia. Eating 2 apples a day can lower your low-density lipoprotein (LDL which is the bad cholesterol) levels. Apples are full of anti-oxidants. Promotes healthy teeth also. Remember to eat whole apples. Do not substitute with juiced apples.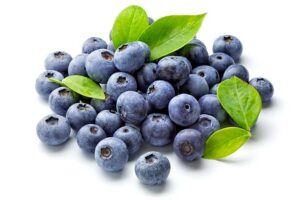 Blueberries- very high in nutrients and low in calories. Eat them fresh or frozen. Blueberries are high in antioxidants and boost your immune system. It lowers blood pressure, excellent for the brain and heart. Prevents cancer, heart disease, cataracts, glaucoma, and peptic ulcers.
Blackberries are full of powerful antioxidants, vitamins C, E, and Ellagic acid compounds that fight cancer and chronic diseases.  Studies linked blackberries to lowering cholesterol.  Also, have the ability to stop tumor formation in the oral cavity as well as the proliferation of colon cancer cells.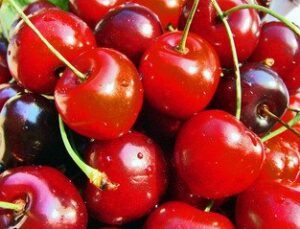 Cherries – Did you know that eating cherries in the evening can help you sleep at night and have a nice wonderful goodnight sleep? When cherries are in season, I always buy some and eat them at night. It helps me fall asleep right away. I learned it has natural melatonin that our body produces to help us sleep.  
The above-listed fruits are just some of the fruits that will help us keep fit and healthy. Other fruits that have high anti-oxidant properties are pomegranates, strawberries, goji berries, mangoes, papayas, bilberries, oranges, pears, pineapples, coconuts, figs, and avocados. If I forgot a certain fruit, please email me, and will add the name.
Fruits Great for Smoothies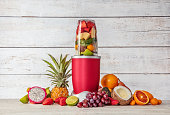 Fruits are best when frozen for making smoothies. They come out better after you pulse them in a blender. The best fruits for smoothies are blueberries, mango, coconut, pineapple, and papaya. This mix of fruits plus a tbsp of hemp protein powder and a can of coconut milk are so good, delicious, and very satisfying. It makes you feel full and will not need to eat a meal. I don't measure the amount of each fruit. I like a lot of blueberries so sometimes I will put about a cup full of blueberries and just add a few frozen slices of the other fruits. When using a blender, try to get yourself a professional-quality blender. They work well with frozen fruits. I like using the professional Ninja blender, it works well for me and has a very reasonable price. But there are so many quality blender units that work well and use what you like.
Finally . . . . .
It is important to be active. A form of exercise that your body allows you to do. Some movements to keep our blood vessels open and maintain limber muscles. When sitting a lot in front of a computer, make sure you take a break after an hour, stretch your body, take a walk, a little bit of neck exercise, and drink water all the time. If you are someone who is retired, do some form of exercise and see to it that you have enough physical activity each day, doing so can prevent chronic muscle pain. Click here for simple exercises to relieve chronic knee, foot, and hip pain.
Feed ourselves with healthy food that is high in anti-oxidants, food that promote wellness and healthy life. Try taking supplements if you are not getting enough vitamins from your diet. It helps bridge the gap between what you eat and what you should be eating.
Do not skip a meal as it will make you crave for more food when you resume eating. Avoid high carbohydrates, high sodium, sweets, instead eat more vegetables. Surround yourself with friends and people with positive energy that will provide you with constructive criticism to help you improve. Keep doing what you do and applying the staying healthy tips mentioned above – you will be a well-rounded individual in no time.
Disclosure:
livelifewellall.com may earn an affiliate commission if you purchase something through recommended links in this article.
Would you like to learn about online marketing? Sign up with Wealthy Affiliate. The world's largest marketing training platform. You are able to join for free. Learn step by step how to do it as a beginner and you will also have access to a free website. Become a premium member and you will have access to endless information as part of the training process. Click here to join.