Ninja, The Best Professional Blender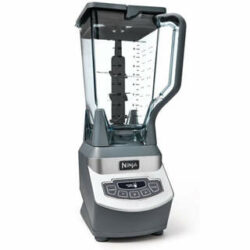 72 OZ Capacity, 1000-Watt Base
6 Blades Assembly with Total Crushing Technology for Smoothies, Ice, and frozen fruits, Model: BL610 Black
Available at Amazon
I purchased this Ninja Professional Blender as the price is so affordable and works like a pro. I used it all the time as it makes my life easy especially when I make my favorite salsa, guacamole, vegetable puree, smoothies, and ice cream. It is so easy to clean and dry after using it. I will share with you what kind of homemade ice cream I make and great for health. I make them not only because they are healthy but far more delicious than commercial ice cream sold at the stores.
Ninja 1000W Professional Blender to Make Coconut Ice Cream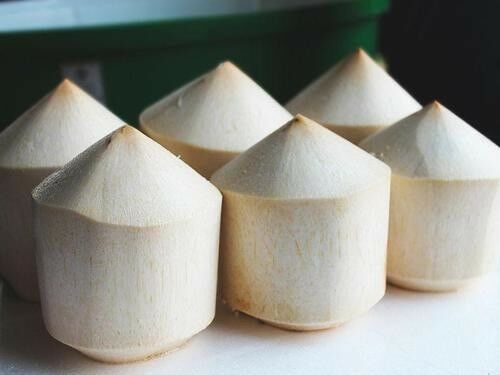 I love coconut ice cream and the recipe is simple.  You need 3 young coconuts, (just like the picture on the right), 1 can of fat-free condensed milk, and 1 can of coconut cream milk.   Opening the coconut, I make a little hole first at the top end of the coconuts. (Like the second photo on the right) Drain the coconut water into a bowl and then chill to enjoy later. It is delicious, full of electrolytes, potassium, chloride, magnesium, and good for the digestive system! Next, cut the coconut in half and scrape off the meat with a big spoon.  Blend the coconut meat and condensed milk in the Ninja blender until smooth and consistent. Then pour in the coconut milk. When creamy, turn off and unplug the blender. Remove the mixing blades. Take a rubber spatula and stir 10 times in one direction to fluff it up a little bit. Pour into a plastic tub and cover. Freeze overnight.   
Young Coconut is nutritious and healthy for the body. It has 90% saturated fatty acids but has a carbon chain that can easily be digested by our body. The medium-chain fatty acid is better than the long-chain fatty acid because it can be directly digested in the intestines without hydrolysis and enzymatic processes, also not converted into fat or cholesterol, and does not affect blood cholesterol. Young coconut meat is low in cholesterol and a good source of Manganese. Coconut also supports brain health.
Ninja Professional Blender for Fresh Fruits Smoothies
I use blueberries, strawberries, mango, pineapple, and papaya. This mix of fruits has lots of antioxidants.  blending them together is like eating sorbet.  To make the smoothie, blend all of the fruits named below with a  can of coconut water with pulp and your favorite protein powder into the Ninja Professional blender.  The recipe is good for 2 – 3 servings.
coconut water with pulp – 1 can
blueberries (frozen) – 1 cup
strawberries (frozen) – 1 cup
frozen mango – 1 cup
pineapple – 1 cup
frozen papaya – 1 cup
Ultra Rich Avocado Ice Cream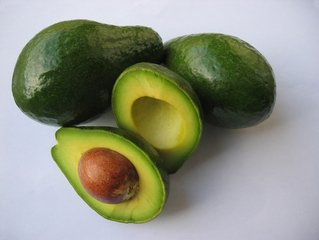 Here's a paleo-friendly, absolutely delicious, and tasty recipe for avocado ice cream. You need 4 medium sizes of Haas Avocado; 1 can of fat-free condensed milk and 1 can of creamy coconut milk. As an alternative, use a little bit of agave syrup and banana to sweeten the avocado ice cream instead of using fat-free condensed milk. The fat-free condensed milk alone is enough though to sweeten the ice cream.
Put all of the ingredients in the blender. Blend until smooth, consistent and creamy. Remove the crushing blades. Stir in one direction about 10 times to fluff it up. Pour into a container and freeze overnight. Have it as a snack or dessert after a meal. Homemade avocado ice cream is my 2nd favorite next to coconut ice cream.  The ninja professional blender is very handy for making avocado ice cream.
Avocado is a superfood. According to a study, avocado is full of good fats! Eating an avocado a day can keep bad cholesterol at bay for overweight individuals. Avocado is a great source for folate, magnesium, potassium, Vitamin B2, B3, Pantothenic acid, Vitamin C, E, and K. The fruit helps you absorb the nutrients you eat in case your body can't as well as provides our body with glutathione, an important antioxidant.
Ninja's Superior Performance
The Ninja Professional blender has a six-blade assembly and has superior performance when making ice cream, crushing ice for smoothies, great for making tomato salsa, fresh vegetable juice, and creamy vegetable soup.  If you are looking to buy a new blender, hope this review will help you decide to make the Ninja Professional blender your choice.  You will be happy with it and not regret owning one.  I have been using the blender for a few years now and I have had no issues with it.  If you have any questions regarding the Ninja 1000-Watt Professional blender, please leave me a message.  If you own one, please share your experience in the comment section.   Amazon has a very easy return process, should you need to return your merchandise.  Just go to your orders and select the item you are returning and follow the instructions on the screen.  Then they send you a mailing label to your email or you can re-pack the merchandise and drop it off at any UPS near you.  It is that easy!  Hope this review on the blender
helps you in your decision to purchase.
Disclosure:
Lifelifewellall.com may earn an affiliate commission if you purchase something through the recommended links in this article. As an Amazon Associate
Would you like to learn about online marketing? Sign up with the Wealthy Affiliate. The world's largest marketing training platform. You are able to join for free. Learn step by step how to do it as a beginner and you will also have access to a free website. Become a premium member and you will have access to endless information as part of the training process. Click here to join.