Best Back and Neck Massagers You'll Love!
Give yourself a break with complete relaxation after physical and mental hard work.  Your mind and body deserve complete relaxation by having full back and neck massage therapy to reset your body and mind.  This article is a review of Shiatsu Massagers and introduces the two best kinds with very similar functions.  Both chair pad massagers have rotating nodes that will massage your back and neck.  The difference between the two is, one uses gel nodes but is firm,  the other one uses hard nodes but still feels soft.  It is just up to you what you prefer.  Both are the best back and neck massagers.
More About Shiatsu Massage
Not all of us are able to go to a massage therapy clinic or afford the cost of the service.  Also, most of us have a very busy schedule and are unable to give a special treat to ourselves by having a massage we need.  A shiatsu massage is an excellent alternative to having a massage from the comfort of our home.  Going to a decent massage clinic can cost at least $100 or more per therapy session in the U.S.  Having a shiatsu massager, you will be saving money and at the same time, you will feel good after a good massage.  It is a necessity for good health.  People with migraines due to stress will benefit from a shiatsu massage.  Again, it makes you feel good plus will increase blood circulation throughout the body.  It is also a non-invasive therapy that helps reduce stress, tension, anxiety, and depression by making you relaxed and calm.
Health Benefits of Massage Therapy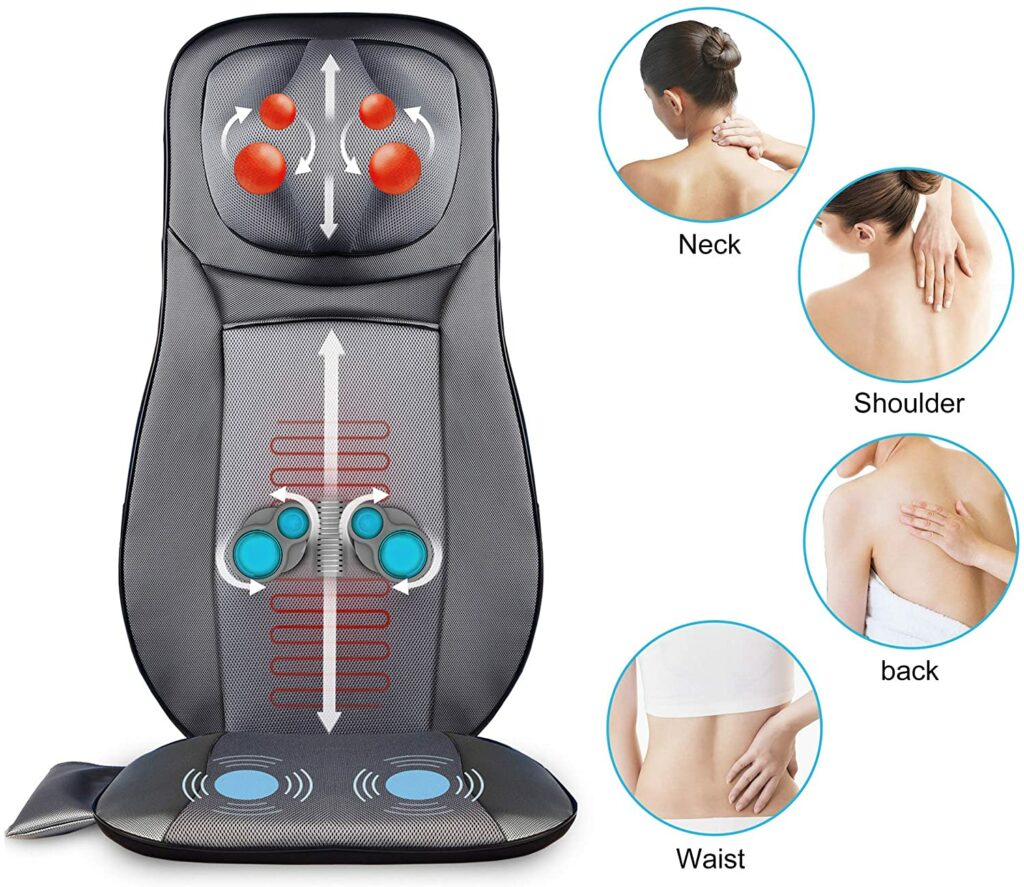 Reduce muscle tension
Improve circulation throughout the body
Stimulation of the lymphatic system to help rid the body of toxins, waste, and other unwanted materials. The lymphatic system transport lymph, a fluid containing infection-fighting white blood cells throughout the body.
Reduce stress hormones
Complete relaxation of our body
Increase joint mobility and flexibility
Great for problem areas like lower back pain and chronic stiffness
Improved recovery of soft tissue injuries
About Snailax Gel Massager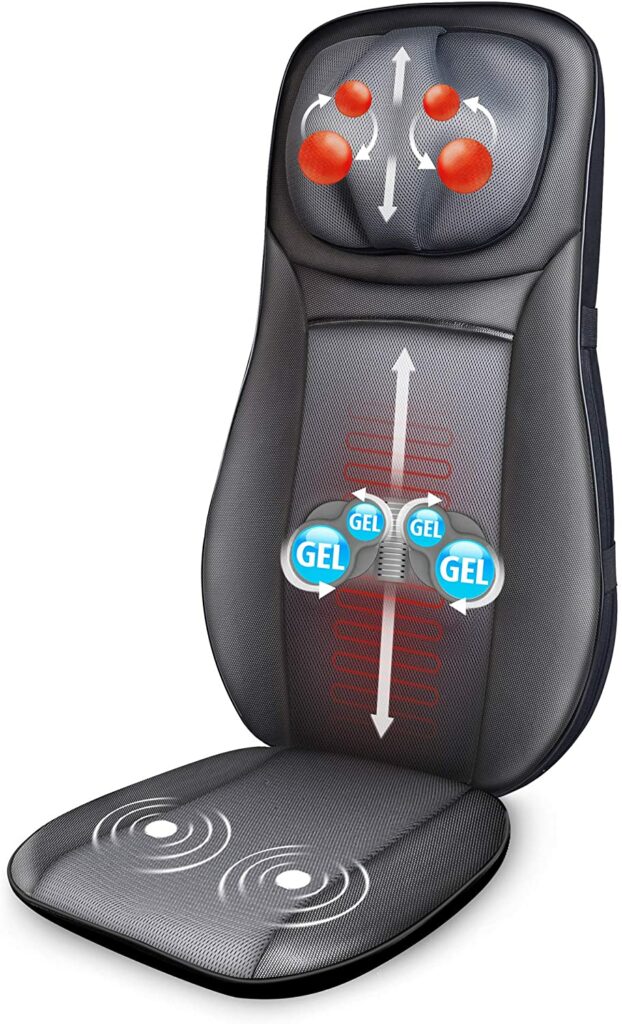 Neck & Back Massager is a massage chair pad with height adjustment Gel Nodes, has a full back heating pad. It does kneading shiatsu or also called rolling massage.
This Shiatsu Neck & back massager with heat incorporates their soft gel technology on the massage nodes to create that palm-like feel massage. Soft against your back, yet firm, that's how it will deliver a natural massage.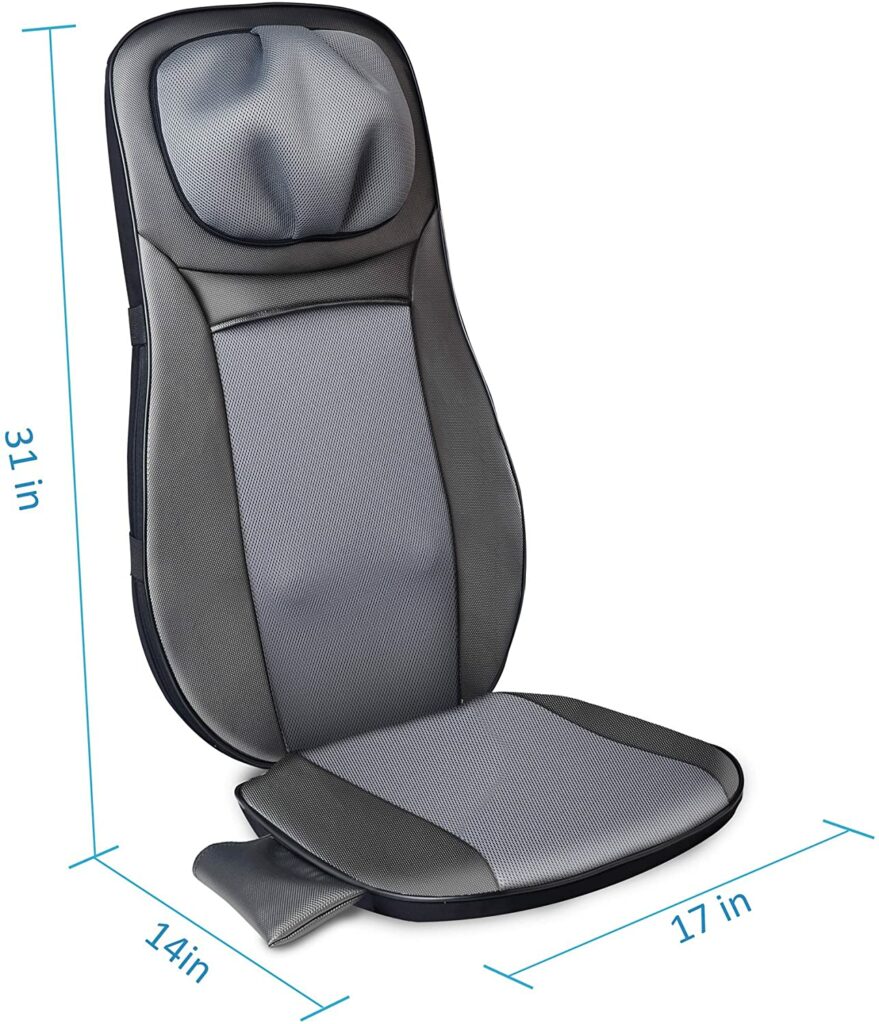 The massage chair features 4 unique neck massage gel nodes that do deep tissue massages on the neck and shoulder to relieve tiredness & muscle tightness. Massage gel nodes are adjustable up & down to the height that allows any member of the family to use it.  The optional heat, will soothe your muscle & enhance blood circulation. The removable cover provides an adjustable intense massage.
Four shiatsu massaging GEL nodes travel up and down relaxing your full back.  Has 3 massage zones for choices of Full Back, Upper back & lower Back.  SPOT MASSAGE is to concentrates the kneading nodes on one area for pin-point relaxation. The detachable FLAP is to choose a softer or stronger massage.  One heating pad covers the whole back area of the cushion.  This massager provides Omni soothing warm comfort throughout the cushion. The soft rolling massage along the spine combats muscular tension, with adjustable width of the massage nodes to fit the body.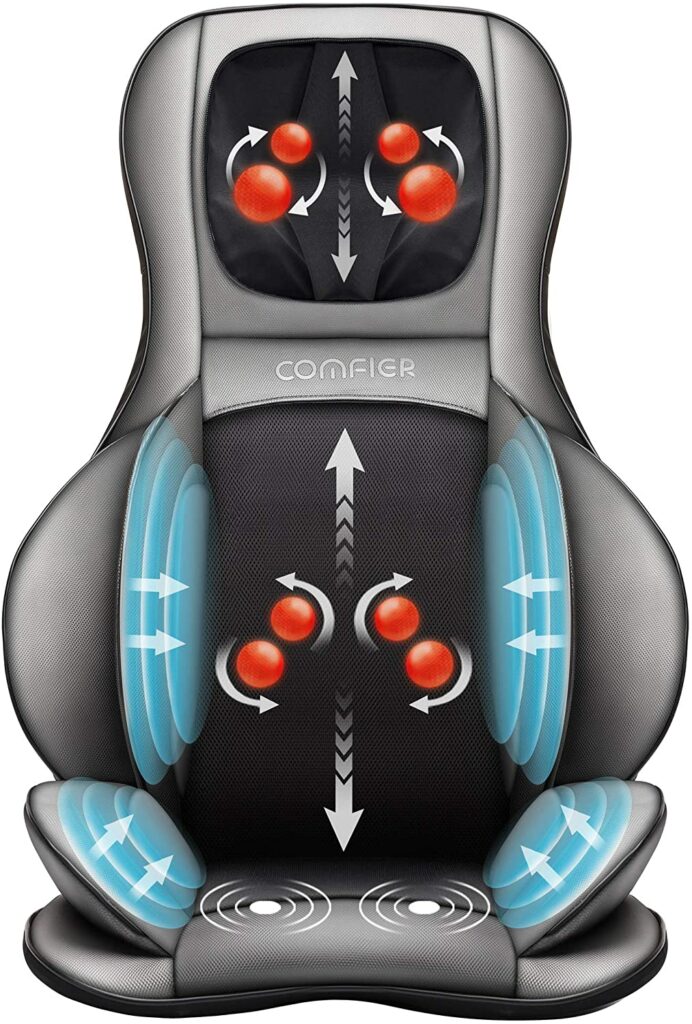 Comfier Shiatsu Neck & Back Massager – 2D/3D Kneading Full Back Massager with Heat & Adjustable Air Compress, Massage Chair Pad for Shoulder Neck and Back Waist Hips, Full Body Pain Relief.
The massage chair utilizes innovative 2D/3D Finger Pressure Shiatsu, Rolling, Air compression, Vibration, and Heat functions to provide you an Omni comfortable massage to soothe muscles and ease tension like a spa massage.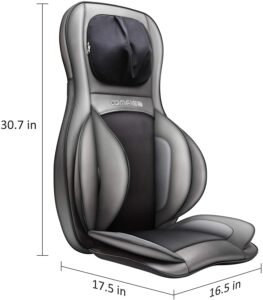 This Massager has 4 rotation nodes to provide deep kneading massages for the neck and shoulder. The massaging nodes move inward & outward motion to create 2D or 3D finger pressure shiatsu massage to provide double comfort to the back of the person.
It does soft rolling massage along the back spine to combat muscle pain across the whole back, and the width between two massage heads can be adjusted to fit the body. SPOT massage function allows you to concentrate the massage on one area for pin-point relaxation. Also, you can choose Full back, Upper back, or Lower back to massage the target area as desired.
The full-back massager has an optional infrared heat function on shiatsu nodes that delivers gentle warmth to further relax tensed muscles.  Adjustable Air Compression is for air massage on the waist & hips from 2 airbags thus indulging yourself in a full-coverage deep tissue massage by the massage chair. Adjustable 3 intensity settings are available.
Feel The Ultimate Comfort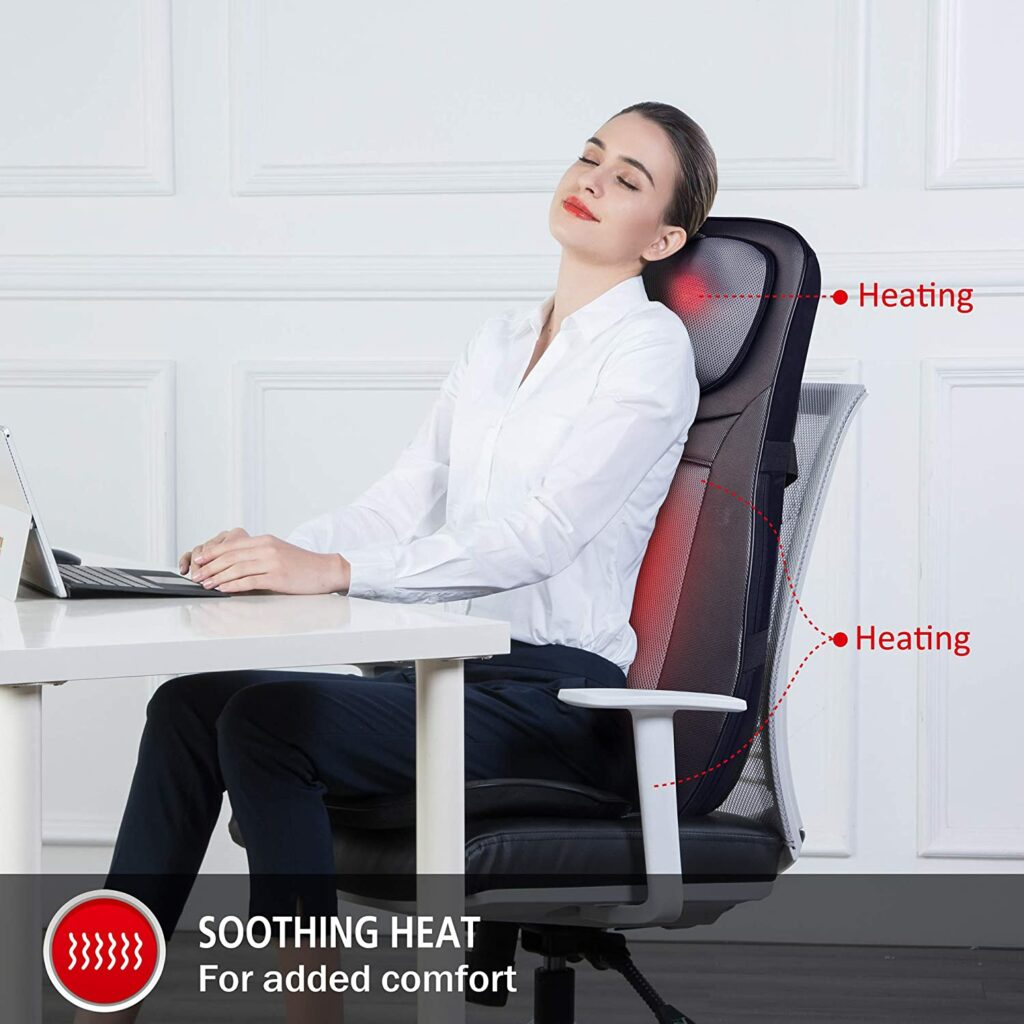 Both Snailax and Comfier have 5, 10, 15 minutes time duration and automatically shuts off. If you need a longer massage, they need to be re-started. Use on a sofa, couch, recliner, office chair, or dining chair in the house for an ultimate comfort seat. The shiatsu back massagers
are perfect for all occasions if you want to gift someone.
Pros and Cons of the Shiatsu Massagers
PROS:
Excellent for a quick massage any time you wish right in your own home
The price is very reasonable and worth it for the extra features for the desired comfort
It makes you feel good and relaxed
Most of the people who bought the massager are very pleased they got it.
You can take it to work or anywhere in the world
The electric cord can be plugged into 110 to 240 volts, it can travel with you.
If you are not happy with it, return to Amazon without any problem. Just go to your amazon account for orders and look for the item and start the process of returning. Amazon will send you a return label to print and then drop it off to UPS. Make sure you keep the box for 30 days in case you decide you want to return it.
Both Snailax and Comfier feel like they are well made with enough features. I own a Snailax Gel Shiatsu Massager and I love it!
CONS:
The massager cannot be used in the car, it does not come with a plug for the cigarette lighter.
There were two customers (out of approximately 50) who received a defective massager. If you need to return the unit, it is easier to do it with Amazon versus contacting the manufacturer.
The chair pad cannot be laid down flat, only on high back chairs, recliners or sofa and dining chairs.
If you are 5.1' to 5"5 you may need to put a pillow on the seat as the shoulder part for the nodes may be too high. But you can do some adjustments to the control.
Disclosure
livelifewellall.com may earn an affiliate commission if you purchase something through the recommended links in this article. As an Amazon Associate, I earn from qualifying purchases.
Join Wealthy Affiliate and learn how to make money online and be your own boss. Join for free training and have access to free websites. However, you have a choice to become a premium member and have access to endless information
to further your training. The cost is very affordable especially if you sign up for the whole year. If you like learning, you will enjoy the Wealthy Affiliate and become part of the family. Click here.